A lot's happened since I last posted. Not least of which is that I got married on November 20th. It's funny. I was engaged in September 2009 and had 14 months to get everything ready. For a good long time, I avoided all things related to the wedding. Then, in the final weeks and months, things got stressful and busy. My own fault for procrastinating, I suppose. But it's done and past, and I'm the happier for having done it.

I don't often look back on comic pages older than the current scene. It gives me grief to see the shoddy art that I rushed to make a deadline, and the overlarge font size I use in some dialog, and all the little details only the artist notices and frets about in his/her work. But its valuable to try and assess how far the comic has gotten in the space of a year. In January 2010 I started Chapter 4, "The Disciple of Duncan". I'm just about finished with it now- Vargas and Sabin are in battle, and then we've got the reunion scene.

So what's that mean? Is it one year to one Chapter? Perhaps I should aim to make all chapters around 52 pages long. If that's the case, then by this time next year we should be at... oh.... sailing the Lete or fighting Ultros. That would be a fun Christmas present. In playing the game, that will be about 20 minutes away from where we are now. What a discouraging thought. But like I keep telling myself, I'm doing this just for the drawing practice and my own amusement. If I were actually getting paid for this, I'd be under a stricter schedule and would churn out pages quicker.

It's just as well that Ultros is one year away, anyway. I have no idea how to draw him. That mouth, you know?

More things are in store for 2011. God willing, I'll be in Artist's Alley at Anime Central 2011, for the third year in a row. It's not decided whether or not I'll have chocobo plushies to sell. They take up a lot of space in my little apartment, and with the added presence of my new husband, space is at a premium here. Not to mention that I am in need of a new computer and Wacom tablet soon, and them things ain't cheap. That flock needs to fly away sooner than May. Right now I have yellow chocobos, as well as golden brown, white, and red. In a bit I will take a photo of the herd for you to see.
After several months of silence, and with no good excuse to explain it all, I am back as silently as I had left. There was a time there where all my time had to be directed elsewhere. And whenever I did have time to work on the FF6 comic, well, I'm sure you preferred that I used that time towards making new pages instead of updating this journal.
Current Mood:

cheerful
The Drunken Moogle
is a site featuring invented drinks with a video game theme. There are drinks representing a lot of the old favorites: Zelda, Metroid, Mario Bros., Pokemon, Kirby, and of course, Final Fantasy. There are a few "Moogle" drinks; I like the cherry on this one:
Also, there's a drink called "Bum Rush". It appears to be a spicy margarita of some sort. To which I say yes. YES.
Click this link
and scroll down about halfway to see "Bum Rush".
Goodnight, y'all.
(and drink responsibly. ;)
For the 21-and-up crowd, I'd like to share a link my friend gave me.
Current Mood:

sleepy

Current Music:

Ants on a Log- Randy Travis
Nothing really new to report. Started a new job today; its nothing special, just a receptionist job. Seems like I'll have a lot of down time as the old receptionist who is training me advised me to bring a book. Perhaps no one would object if I brought a sketchbook instead?
I have an idea for a new comic. It would be a lot less daunting than the FF6c. I would begin with a chapter of 30 pages with a stand-alone story. If I liked the result, I could expand on it. I want it to be a "Cooking Comic", if such a genre exists. It'll be set in ancient Tarraco, part of the Roman Empire. So far I am just hashing out a script and making preliminary character sketches.
Finally, let me share a comic I really enjoy.
Red String
has been running since 2003 and I have been following it since 2006. Its a sweet (and long) story about love in all its forms, centering mainly on teenage love and choosing one's path in life. The art is good; the writing, very good, I think. And it even has some characters who enjoy cooking! That was partially what gave me the inspiration to make a cooking comic. I've even met the author/artist at Acen; she's very sweet.
That's all for now.
I just wanted to make a post for the sake of not letting this LJ go unposted for too long.
Really, all I need to do is add backgrounds and figure out what "house chicken, hold the mushrooms" looks like. I can't place the source exactly, but I heard somewhere that Locke likes maps and taking naps in fields, and dislikes mushrooms. I think that came from an official character profile from Japan? But I can't confirm that exactly right now. I'll find out for sure later. But anyway, yes, Locke has ordered this chicken dish and requested it without mushrooms. Apparently he likes chicken.
(
Click to see the page's progress
Collapse
)
's all for now.
Since I can't get Monday's page finished until this evening, thought I'd share the progress of it.
Current Mood:

tired

Current Music:

The Postal Service- Nothing Better
Terra's
chocobo
from the big getaway scene in the comic.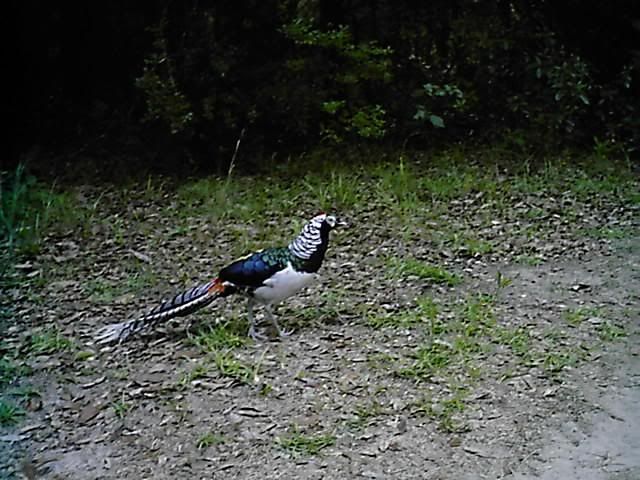 Filbert, according to Wikipedia, is a Lady Amherst's Pheasant. According to Psiren, he is really friendly and follows family members around.
Oh, yeah. Be jealous.
Oh, and not that it matters immensely, but June 6 was the three year anniversary of this comic. Still got a ways to go!
Reader Psiren shared with me a picture of a wild pheasant that has taken residence on her property. She named him Filbert, after
Current Mood:

artistic

Current Music:

Ace of Base- All That She Wants
While browsing idly today I found the International Union for Conservation of Nature (IUCN) List of Threatened Species. Seems that in 2008
humans were formally evaluated
and given the lowest rating of danger of extinction, "least concern". This report details
homo sapien
s' Taxonomy, Geographic range, and habitats, and major threats to the population (none).
(Yes, yes, I know you can argue that perhaps the epidemics and pollution and nuclear war are all threats to humanity, but so far, according to the IUCN, nothing has come along that poses and immediate threat to out total annihlation. So good.)
I must say I find this report to be rather charming. It presents the facts objectively and with the same formal wording that you would find in the reports of other animals. Yet it's information that we already know, like a list of all the countries where humans reside (answer: every country). But still, the report had to be done. I love it.
That's all I got for today. Next time I'll post something more FF6 related so you know I'm not slacking on that. :)
Took an impromptu trip to Memphis this week and just got back. I'll post pictures when I get them, which might not be for a while, actually. The trip was fun, though the weather hot and muggy. Its the second time I've ever been to the "South". I'll have to hurry to get next week's page done.
Current Mood:

calm
Here's a
cute art site
with a rather large FF6 gallery. I only wish I could read Japanese because most of the pieces are accompanied by a description. Scroll down the menu on the left side.
Reader and fellow DA artist theApocrypha just finished part 8 of a very funny and well done comic titled "Locke is a Dick".
Check it out
even if you disagree. She has other galleries with VI fanart, too.
Finally, my fiance found this one on Youtube. Its a really well executed rendition of
"The Decisive Battle" in Mario Paint
. We were both sad to see that this video has gotten so few views. This stuff ain't easy to do, I tell you that. So go ahead and give it a listen.
Sometimes I like to share neat little things I find on the Internet.
Current Mood:

cheerful
(
Three Acen Photos
Collapse
)
Also, someone wrote a News Article on Deviantart that has a
link to my birds
(scroll down almost to the bottom)
And that's it for this year. Thanks again to everyone who stopped by.
I have a couple of photos from the recent Acen to share with you. I'll stick them under a cut so it isn't such a large post.


Finals let out a week or two ago, and campustown is empty once again. I don't get much occasion to go there anymore, but when I do, its good to not be battling the crowds.

Shortly after the end of the semester, as if on cue, the weather turned all hot and muggy. Today it was in the 90s, and I finally broke out my fan. There are now three of them running in my apartment. Did I mention that I have no A/C? I just hope we don't get any major heat waves. Last year wasn't so bad; there were only a couple days of oppressive heat.
Had this day off and spent the morning finishing today's page. My apologies to anyone who checks the comic first thing in the morning. Yes, Shadow enters the comic today. I never had any opinion on him while playing Six. He was a good fighter, and always good for throwing shit, but his vagrant tendencies always made me pass him up, especially that second opportunity you get to commission him. His dreams were always neat to watch, though. I always got a chill from them. The while Shadow/Relm story never really caught my attention, though.
Current Mood:

sticky
BUT on the plus side, I like this picture! I think it can stand on its own as a piece, so maybe I'll use it in a portfolio.
If anyone's curious, the photo reference for this picture is of "El Calle de los Judios" ("The Street of the Jews") in Cordoba, Spain. If I remember right, this street is part of a larger "Old Jewish" section of town, complete with tiny winding streets in its medieval-ness. I was there once, walking late at night with my fiance. It is actually kind of scary to be disoriented in an area with tight, twisting streets and sometimes uneven ground. It was a little adventure.
(
Click for the larger version
Collapse
)
Okay. I go sleep now.
I'm seriously going to have to revert to cell shading for the backgrounds from now on. This page took me way too long, and since we are getting close to the anime convention, it is important that I use all my free time towards making chocobo dolls. For serious.
Current Mood:

sleepy