Thought I'd share Locke helping himself to the contents of the backpack. I had to stretch out in front of a mirror with a jar of minced garlic to draw this pose. Its strange, but stretching out like that always seems to make a person taller (longer?). I tried to break that drawing habit, and hope Locke looks as short as he's supposed to (in this comic, Locke is 5'5").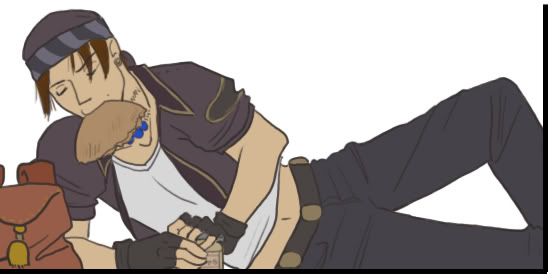 Its probably just my weird self, but there is something about Locke eating
pita and hummus
that really, really amuses me.
My co-workers will never fail to make a big deal when one of us brings in something unusual to lunch. Last week, it was me with my hummus. Its common for new foods to be treated with suspicion (especially if they have a non-English name), so I think its important to "demystify" the food by explaining just
what its made of
.
After I did that, a few people were brave enough to try a little bit. Other coworkers just sat and stared.
And I mean, yeah, I can understand how sometimes you need to walk someone through a new food. The first time I had sushi, it was with some friends who were able to explain just what I was ordering. I wouldn't have gone out of my way to try sushi without them. But it's another thing entirely when you treat something new like it's going to do you harm, especially when its vegetarian food. Not that I'm big on food or anything; I am actually quite picky.
Today was day 8 of working 10 days straight. It is getting a little tiring, I must admit. But I'll have the Easter weekend off, and will be out of town for a day or two.
Was full of energy this evening. Brought page 130 from rough sketches to finished linework. Even got to color the first panel!
Current Mood:

productive

Current Music:

Shakira